Moving Carpet and Snow Tubes in the "WINTER WONDER WORLD




Ultra-modern Moving Carpet and toboggan alternatives from Sunkid
Place:
Nauders /
Year:
2023 /
Product:
Moving Carpet / Tubing / Sunny Stuff
The adventure area Nauders promotes its "WINTER WUNDER WELT" as an alternative to skiing with the slogan "There everything goes smoothly!". In the center, a Sunkid Wonder Carpet guarantees a comfortable and safe ride up the mountain. With a wide variety of sliding companions from the Sunkid product range "Snow Fun Park", winter sports enthusiasts are also offered an action-packed alternative to toboggans from the Sunkid portfolio.
In the center of Nauders am Reschenpass, "lots of snow fun for all ages" awaits on 16,000 square meters below the illuminated Naudersberg Castle. In addition to ice sports activities and alpine hut catering, sliding on snow - without skis - is at the center of the "WINTER WUNDER WELT".
Since this winter season, a modern Sunkid moving carpet of the Type N transports all tobogganers and tubers quickly and relaxed up the hill. The built-in RGB LED gallery lighting, including control via i-CONTROL® sets the scene in a variety of colors.
Key-Features of the i-CONTROL®:
Multi-touch HMI with all relevant information for operation, maintenance and troubleshooting.
Four different password-protected user groups, each with a defined release of functions
Digital maintenance plan of the plant
Remote access to the electrical control system via the Internet for customer and manufacturer (for extended customer support)
Regular reports by e-mail on the most important operating data (such as utilization, etc.) to various recipients (customer or manufacturer)
Mini Ski Bikes, Fun Balancers as well as EVO and Standard Tubes, which visitors to the "WINTER WUNDER WELT" Nauders can borrow, provide varied action.
Sunkid tubes are available in three sizes (mini, medium, maxi) and have a very slippery and resistant plastic bottom. To ensure that both comfort and safety are not neglected, the rules for permissible use are printed on the soft seat pad of the EVO series.
Images/graphics: (c) TVB Nauders
Winter Wunderland Zauberteppich
Features:
Type N, RGB LED gallery lighting (Evolus N); i-CONTROL®.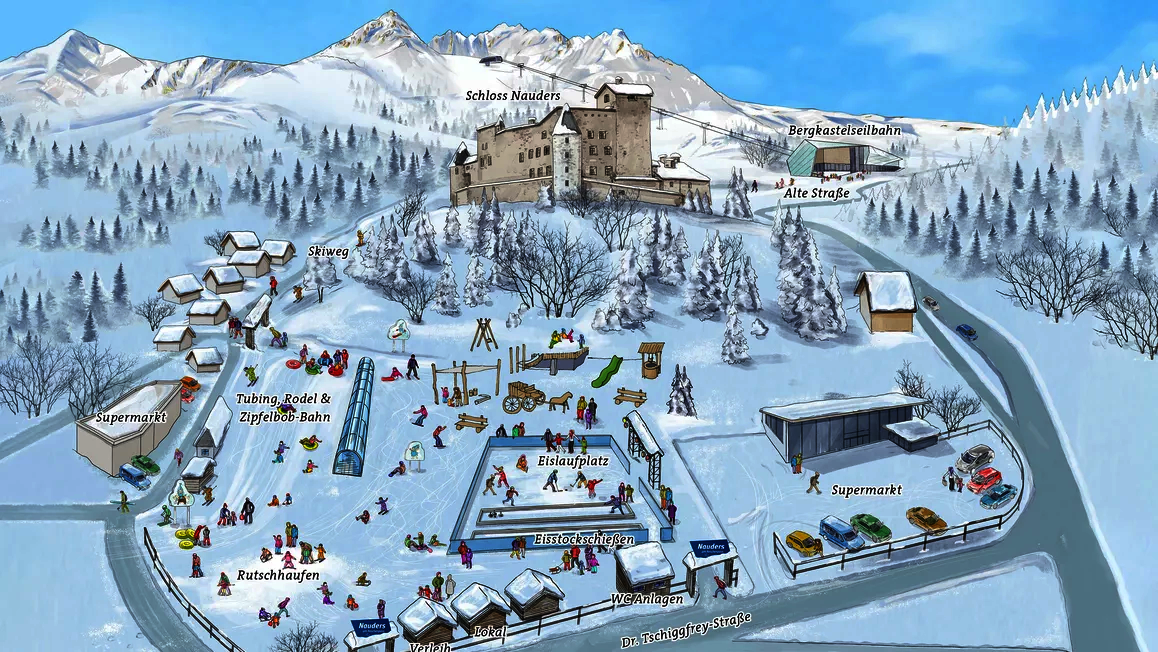 More Projects
Sunkid is one of the world's leading year-round providers of leisure attractions for the whole family. From individually selected attractions to individual overall concepts.